In the middle of 2011, Crowned Heads began working with Ernesto Perez-Carrillo on what would become the inaugural cigar from the Nashville-based company, "Four Kicks"
Close to a decade later, the Four Kicks brand thrives as a cornerstone to the Crowned Heads premium cigar portfolio. During those latter stages of the original Four Kicks blend selection, the decision came down to three options. Two of the final blends were favored by Crowned Heads and featured an Ecuadoran (Habano) wrapper, while the third variant was favored by Ernesto Perez-Carrillo and featured an Ecuadorian (Sumatra) wrapper and slightly tweaked filler tobaccos. Ultimately, the directive from Perez-Carrillo was clear that Crowned Heads would need to make the final decision and, in the end, the Habano variant won out.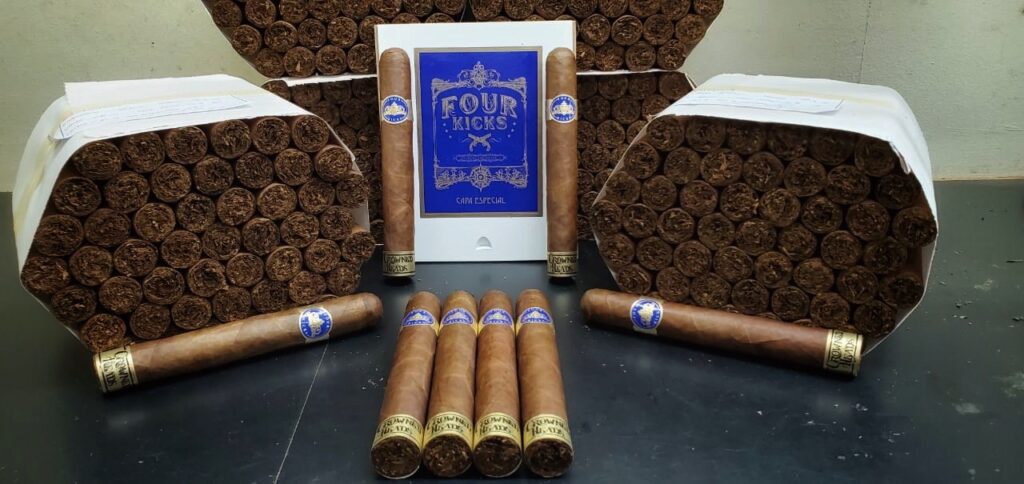 Now, nine years later, Crowned Heads ahs turned the clock back to the preferred blend of Cigar Aficionado Hall of Fame member and industry icon, Ernesto Perez-Carrillo. Today, Crowned Heads is proud to announce the latest extension to the Four Kicks brand, "Four Kicks Capa Especial".
The blend of the Four Kicks Capa Espcial is desvribed as:
Wrapper – Ecuadorian (Sumatra)
Binder/Filler – Nicaraguan and Dominican
The company notes that the Four Kicks Capa Especial will be expressed in 3 vitolas, each packaged in 24-count cabinet boxes.
Corona Gorda (5 5/8 x 46)
Robusto (5 x 50)
Sublime (6 x 54)
Suggested retail price will be in the range of $8.65-$9.95 per cigar.
Hand crafted at Tabacalera La Alianza, S.A., in the Santiago, Dominican Republic, the Four Kicks Capa Especial are expected to begin ship later this spring.